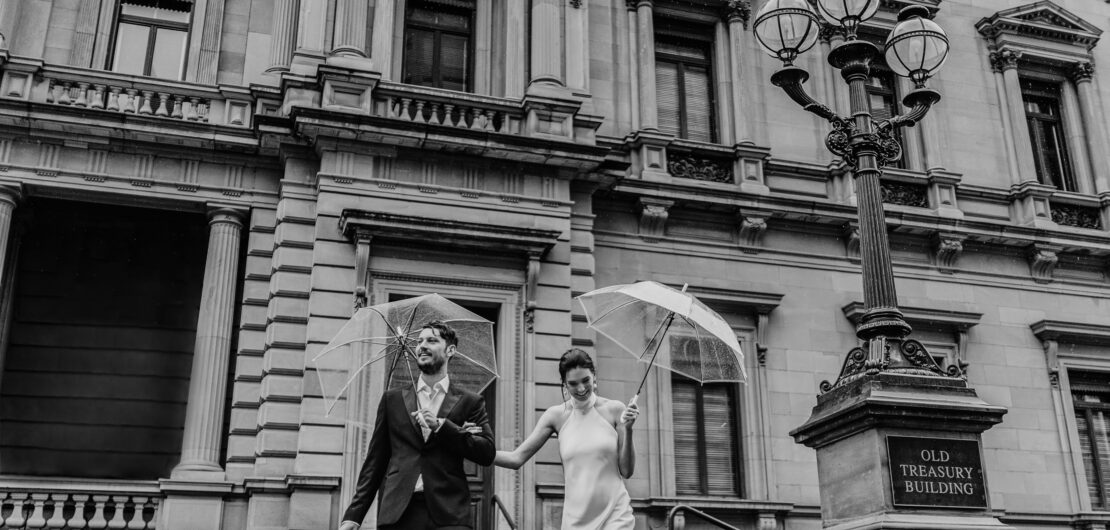 I was looking forward to Maddy and Ryan's wedding since I first met them and their fur kids. We chatted over coffee, then went for a complimentary mini photo shoot. They decided to book me right away.
You know me, I love everything about outdoor weddings, but I'll never tire of the unique style of an urban wedding. And Maddy and Ryan's wedding day at the Hotel Windsor was certainly classy and chic.
When I entered the room where the bride and her tribe had been preparing, their faces shone beautifully despite the rainy Melbourne backdrop outside the window. Madeleine wore a beautiful white satin wedding dress with halter neckline and pearl detailed wedding heels, adding to her timeless bridal look.
Everything was set for an intimate ceremony at the Old Treasury Building. Their vows were filled with plenty of emotion and before we knew they were pronounced husband and wife.
After the ceremony we took a few fun couple photos in the Treasury Gardens. I had it all planned out. Originally I planned to take a few shots with the bridal party and groomsmen and later that evening the couples session, when lighting should be soft gold. Well, the rainy, gloomy weather put a stop to that idea. As I wasn't expecting golden light anymore, I improvised and took the couple photos straight away. Luckily, Maddy and Ryan trusted me with this.
As an intuitive wedding photographer, I love when couples trust me fully, even if it doesn't make sense to them at that moment. I would rather they put their energy into having the best time together, giving me the freedom to create.
After a memorable entrance, it was time to pop the champagne, say a couple of fun and oh so emotional toasts and celebrate, dance, eat cake. Just have the best day ever.
But their wedding day was not only about the immense happiness of these two beautiful souls. It was much more. Their special connection to family and friends, joy and love for each other. It was everything it should be.
And I absolutely love to document these genuinely happy, unposed, natural encounters. To capture all the wedding moments exactly as they occurred, so the couple can treasure them all for life.
Venue: Wallis & Ed – The Hotel Windsor Melbourne
Ceremony: Old Treasury Building
Hair and Makeup Artist: Amy Bysouth
Cake: The Cake I Make
Heels: One Day Bridal
Dress: héxié